Today we got pictures taking with Santa, and with the picture purchase we got a $20 Shutterfly gift card! I used this card to order our Christmas cards!!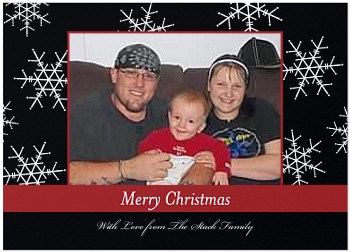 Snowflake Band Black Christmas
Turned out cute! This is the only family pic we have updated but it works. By posting my picture on the blog we can get $25 gift certificate from Shutterfly!! And as a bonus for signing up I get 50 free 4x6 prints which will come in handy after all the Christmas pictures I take!!